What are Edwardian Engagement Rings?
While there are still brides that go by the traditional way at the engagement, some of them still aim for a good change when choosing rings. If you are one of them, you want to look for something antique or unique like Edwardian engagement rings or a black diamond ring. By selecting one of these engagement rings, you will not get a hold of its charm and uniqueness, but will also have something that is cheaper, has better design and details, and can stand as a family heirloom for generations to come.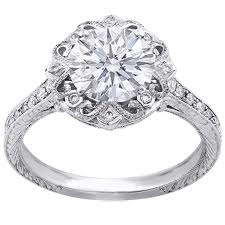 What exactly are Edwardian Engagement Rings?
These engagement bands were primarily designed during the Edwardian era – a period between 1900's and 1920's; hence the name Edwardian engagement rings. The trend was brought by the invention of the oxyacetylene torch – a tool that was used to craft antique Edwardian engagement rings. Since the innovation, jewelry designers got an idea of creating milgraining, pierced and lacy forms; along with filigree detail on the ring's mounting. Aside from sapphire rings and rose cut diamond rings, these jewelry pieces were very coveted during this particular period.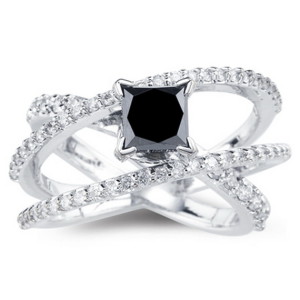 Popular Styles
On jewelry stores and online shopping platforms, a buyer can find a multitude of Edwardian style engagement rings in various cuts, colors, craftsmanship, shapes, and metals used. Since you are in the market for one, this article has listed down the top 5 picks on vintage Edwardian engagement rings today. And you can find them, along with their brief descriptions, below.
Diamond and Platinum Edwardian Ring
Crafted with a stunning European cut gemstone, you are going to love this diamond-detailed engagement ring with an Edwardian twist. Presented in a top-quality platinum material, the central diamond is adorned with little versions on the frame; which is carefully milgrained and slatted thoroughly to create a gorgeous finished product that is intricate handcrafted.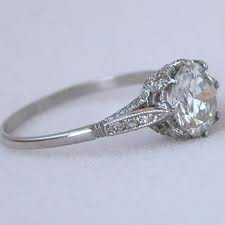 Diamond Edwardian Ring with Filigree Design
Inspired by the early 20th century, this solitaire-mounted ring comes with a brilliant European cut diamond and a hand-finished white gold. Surrounding the diamond is a detailed filigree design; which accentuates the shoulders of this fine and elegant vintage ring.
Edwardian Old Mine Cut Ring
Another white gold and diamond masterpiece is this Edwardian engagement ring. At the center comes a gleaming old mine cut diamond; which is supported with gothic filigree on either sides of the frame. If you are keen about everything classic, then an old mine cut diamond ring is for you.
Art Deco Antique Platinum Ring
Presented in a sophisticated octagon setting that resembles a floating effect, the ring comes with a big, shining European cut diamond that is embellished with tiny diamonds in its surroundings. At the back of the ring lies fancy filigree that extends up to the ring's shank. Exquisite and luxurious, the ring makes an excellent alternative for couples that can afford the extravagance of diamonds.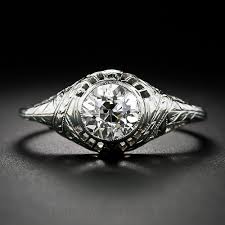 Marquise Edwardian Diamond Ring
If you have a thing on rings with bigger gemstones, you will surely admire this Edwardian ring that is accentuated with a 9.55-carat diamond. Inspired by the early 20th century era, the ring comes with an oval shaped, old mine cut diamond at the center and a refined platinum frame and setting. If you look at the diamond more closely, you'll notice that it has a subtle yellow tinge; however, this does not change the stone's ability to shine. But if this sparkle is still not flattering for you, don't fret because on the shoulders lie small old mine cut diamonds that are arranged in delicate milgrained settings. Impressively antique, any woman cannot resist the beauty and sparkle of this one-of-a-kind Edwardian ring.
Conclusion
And those were the top picks on Edwardian engagement rings that are worth considering today. Be sure to check out one today – your dream engagement ring can be just there waiting for you!